We greatly value the feedback we receive from our customers and would be grateful if you could take a few minutes to let us have your thoughts on the building and the customer service you received.
Log Store
We would just like to say thank you for producing such a great log shed for us. It was delivered exactly on time and went together beautifully. We are very impressed with the workmanship and efficiency of Master Sheds. We will certainly recommend you to others and if we need any more Sheds you will be the ones to come to.
Mr & Mrs Lacey
Rodborough, Stroud
6×6 Apex Shed
Delighted with service from start to finish. Courteous, helpful, friendly, flexible with late alteration requested, great quality, arrived exactly on schedule and erected shed in exactly the 1.5 hours predicted! Thank you for a great job Master Sheds.
Mr Pringle
Cheltenham
8×6 Shed
An 8×6 shed delivered and erected today, excellent quality, very professional and courteous staff. Very efficient and took no time at all, arrived when promised and left no mess.
Would highly recommend.
Roger Neale
Hempsted
8×6 Shed
Our new garden shed arrived as promised last Monday morning.
Your two employees were very quick and efficient in erecting the shed and gave helpful advice on weatherproof paint.
We just wanted to say that we are very pleased with the new shed and the service that came with it.
Mr & Mrs Collinge
Ledbury, Herefordshire
Thanks Very Much
Hi, 2 of your guys arrived this morning to erect the shed we had ordered, just to say they did an excellent job locating it exactly where we wanted. They worked quickly and efficiently and the shed was very good value for the money we paid.
Thanks very much,
Mr Knight
Gloucester
Thank you so much
Thank you so much for our new shed, it's fantastic. When we moved into our new home we quickly realised that a standard shed wasn't going to fit the space down the side of our house. We didn't want a big shed sat randomley in our garden so we went online to look for a bespoke shed maker, which is when we found Master Sheds from Gloucester. They were brilliant from start to finish. Prompt in their responses, honest about the timescale we were looking at (due to the Covid outbreak and a huge rise in demand) they were punctual and professional and there workmanship is spot on. I honestly cannot recommemd these guys enough. No wonder they have seen such a huge rise in business, long may it continue!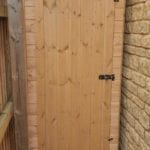 Emma Marshall
Mickelton, Chipping Campden
Great Service
Family friendly, take care of their workmanship very punctual and communicative. 5 out of 5 from me! I was so happy with the shed, I later bought an identical one to match".
"I would like to say a big thank you to the team at Mastersheds in Gloucester for all their help with my two garden sheds…
I was recommended to visit Mastersheds by a Gloucester based builder who knew I was after something substantial and not the usual cheap quality "blow away in the wind" we see all too often.
I popped into Mastershed's unit and I was greeted to a welcoming family business environment. They made the time to find out what I needed and explained to me their vast capabilities.
The staff members were more than happy to show me their current projects, the materials they use and their construction techniques. The whole team were completely transparent and prided themselves on the work they were doing.
Mastersheds didn't try to upsell me anything that I didn't need and I didn't feel pressured into making a rushed purchase.
The team promised me a prompt delivery of the item that I wanted, provided me with a morning time slot and even rang ahead to give an accurate ETA.
The quality of the shed's construction and materials are second to none, looks amazing and it feels both safe and secure.
I was so happy with the first shed, I contacted Mastersheds and ordered an identical one!"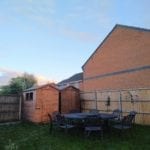 Dominic T
Gloucester
Motorbike Shed
I have being looking for a shed to store motorbikes in, but wanted a certain size and height. There are a number of companies that say they make bespoke sheds, but every time I mentioned the height I was told I had to stick with standard heights.
Eventually came across Master Sheds and contacted Jake. I explained what I wanted, dimensions, height, hinge types, floor type and purpose and he responding very promptly confirming everything could be done as requested.
I needed to change the dimensions of floor space and again this was no problem.
Jake and Carl came out and constructed the shed. No mess, very quick and very professional.
Very happy with the service that they provided.
Dave M
Oxfordshire
7×5'6″ Apex, Lined with Ply.
Thank you all at Master Sheds, I am delighted with my new shed and the girlies (guinea pigs) where so pleased last night to be settled into such a palace, would recommend you to anyone.
Sue Winslade
Northleach, Cheltenham
We are very pleased with the quality and service with your professional erection team.
Give your men a pat on the back from us, and again many thanks, worth every penny.
Michael Bradley
Robinswood Gloucester
Outstanding service from Mastersheds.
Outstanding service from Mastersheds. Shed is fantastic, such good quality and exactly what we asked for. The staff were so professional, courteous and helpful. Installation was very quick.
Can't recommend them enough. Extremely good value for money.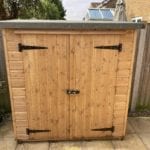 Kathryn Latham
Churchdown, Gloucester
I must say the Quality, the fitting, and the service of my new 8 x 6 Shed is very very good, so here is a big thank you to all your workers from us here.
Nigel Jones
Gloucester
Built my shed to awkward measurements, with no fuss, Simon or Jake offered all the help I needed to get exactly what I wanted. They were on time and erected the great quality shed ,I'm very happy with the company, having already recommended them.
Ian Morgan
Bristol
I bought a tongue and groove ex-display shed from Master Sheds about 10 years ago and moved it 3 times since. I give it a coat of Duck's Back paint every year and it is virtually as good as new. Definitely worth buying good quality and that is what Master Sheds are.
Mr Addison
Proper people to deal with, did what they said, when they said and with good quality workmanship, well done, Would recommend.
Ade Williams
Cinderford, Gloucestershire
Once again you have provided great service. The new shed was erected quickly, on time, without fuss and looks really good. Thanks so much.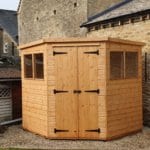 Mr Willis
Fairford, Gloucestershire.
Would you pass on my thanks to the team today. They did a great job and left no mess whatsoever. Which is fantastic as we have a dog that's into everything. Much appreciated.
Mr Evans
Longlevens, Gloucester
Garden shed delivered promptly and erected easily by one man & one woman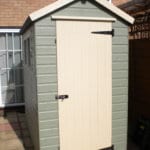 Mr Abrahams
Arrived bang on time. Checked the access. Built the shed in 50 minutes flat and moved on. From start to finish this has been the best customer service I have ever received. Polite; helpful; professional; efficient and effective. The cherry on the cake is the quality of the product – it is exceptional. Thank you.
Mr Marsden
Hardwicke, Gloucester
I just wanted to say how very pleased I am with our shed. I love the church windows, and am so glad i opted for those, likewise the paint colour, which I chose quickly and it fits in just right. Your whole service has been really efficient and professional right from my initial enquiry, and I'm so glad I chose you. Thank you so much, i would recommend you to anyone. First class service and a brilliant shed.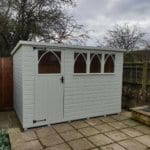 Catherine
Latton, Swindon
Our shed was delivered this week and we were very pleased with the quality. The shed was delivered on the day specified and built in 'no time.' Thanks for the service and advice. We will have no hesitation recommending Master Sheds in the future. Thanks again.
Mr Fish
Forest of dean
We just want to thank all the team at Master Sheds for all their help with our 'big build'! Right from the outset they have been outstanding. Turning our design into reality! It really has been a bespoke build from start to finish. Their advice & knowledge has been key to its success. We would happily recommend Master Sheds to anyone. Thanks again for all your help.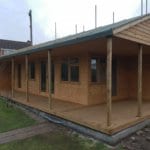 Alistair & Andrea
We are so pleased with the shed you made us for my husband's mobility scooter. Excellent service.
Mrs Smith
Thanks for bringing and erecting a fantastic made to measure shed today. Fitted perfectly next to my original shed in a very tight space. Very professional. Thank you guys.
Mr Campbell
Forest of Dean
I just wanted to say thank you to all your staff for the great service and a wonderful workshop. It's nice to see a private company doing so well. It's worth the wait for the quality and service you provided.
Mr & Mrs Sparey
Langford, Gloucester
Thankyou Mastersheds for taking my design for a shed with an attached enclosed sitting area and producing a brilliant solution. The helpful staff, quality of build and the customer service were impressive and second to none. Brilliant and thanks again.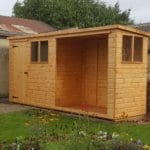 Gerry
Fairford
I am delighted with our new shed. The shed was totally designed to our requirements. The materials used and craftsmanshift are of the highest quality. We informed of the build every step of the way and invited to see it in the workshop before installation.
The staff are professional, courteous and nothing is too much trouble.
I highly recommend Master Sheds if you want amazing customer service and a high quality shed.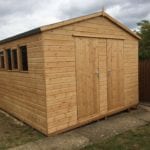 Helen stait
Tuffley, Gloucester
Fantastic service from a fantastic company. From design to build, Mastersheds were excellent; they listened to what we wanted & offered good advice & suggestions. If you want a cheap shed that might last a few years – go elsewhere, if you want a quality build at a reasonable price, built to your specification & requirement that will last – then go to Mastersheds. To say we are pleased with our product is an understatement – we are thrilled! Its also comforting to know that Mastershed guarantee their work & we can go back to them if we happen to encounter any problems in the future. Cannot recommend this company highly enough.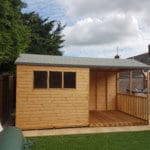 Richie & Daria Parker
Thankyou very much for the shed. After i placed the order i changed my mind and ordered a slightly bigger shed. They were very accommodating. The shed has fitted into the corner of my garden very nicely. Looks a very sturdy and well built shed. Thanks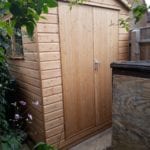 Mr Hayes
Great crew and very well lead. Thank you very much.
Terry Brown
The shed looks great and is just what we wanted in the odd shaped space we had. Thanks for the great service. Thanks again and best regards.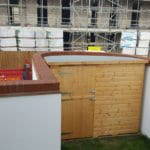 Jonathan Lund
Fantastic service from Master Sheds. I had a strange L shaped requirement for our replacement shed. Master Sheds have provided us with a fantastic addition to our garden. The people were great, very friendly and efficient. I would 100% recommend them to anyone wanting a quality product.
Darren
Churchdown